||Merchandise
||Big Winner Prizes
||Big Winners
||Feature Player
||Feature Dealer
CASINOS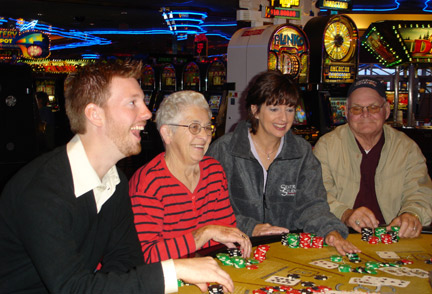 Check out this page to learn about Silverado Stud® Poker Coming Soon To a Casino Near You!
Silverado Stud® Poker is currently featured at the following casinos:
South Dakota
Royal River Casino in Flandreau
Dakota Sioux Casino near Watertown
Ft. Randall Casino near Pickstown
North Dakota
Spirit Lake Casino at Devil's Lake
Dakota Magic Casino near Hankinson
Iowa
Mississippi Belle II/Wild Rose in Clinton
Minnesota
Jackpot Junction near Morton
Prairie's Edge near Granite Falls
___________________________________________________________________
NEWS
Hot off the Press...
December 5 , 2006
Silverado Stud® Poker went into Prairie's Edge Casino near Granite Falls, MN..
---
ARCHIVES
Partners Sell Poker Game to Casinos
David Pego
For the Argus Leader
published: 10/4/2004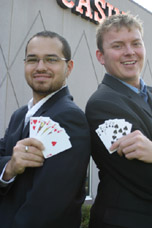 Without placing any bills in a slot machine or chips on a table, two 24-year-old Sioux Falls men recently hit a whopper of a casino jackpot.

Chris Karr and Shayn Damm have invented a new poker-style table game that is being played at two South Dakota casinos and being considered by several more.

The rollout of the game comes at a very lucky time - when poker tournaments have become popular fare on several cable TV channels. It also is a time when gambling has become a popular form of entertainment for many Americans.

The two men got the idea for the game while sitting in a small ice fishing shack on Lake Sinai near Brookings.

"It was a cold day in January 2003," recalled Karr. "And we did not catch a thing."

So they started doing what many ice fishermen do while waiting for something to hit their lines - they played cards to pass the time while watching their lines. Suddenly, inspiration hit Karr, and he started telling Damm about an idea he'd just gotten for a unique game that is a blend of five-card stud and three-card poker.

Over the next few months, they charged ahead with the idea, refining the game's rules and protecting it with trademark and copyright filings. They had to invest time and money to cover all the bases, but it turned out to be one swell gamble.

Damm said he still wasn't sure it was going to work until June 15.

That's when the Royal River Casino in Flandreau changed one of its eight card-playing tables from blackjack to Silverado Stud. Dealers who had been quietly training in a back room suddenly brought the game to life, and soon the table was full of curious gamblers. The table now gets steady play, and on most evenings, all seven seats are full of women and men hoping for one of the game's big payouts.

Karr is no stranger to the Royal River Casino. He's been a blackjack and poker dealer for more than three years and still works several shifts a week there. Patrons proudly point him out to Silverado Stud newcomers as one of the game's co-inventors.

Damm works for Wells Fargo Bank, fixing problems with customer accounts.

But in most of the other hours they are awake, they are making calls, writing e-mails and making personal visits to other casinos, trying to tell them about their new game. Word about the game also is spreading like a South Dakota grass fire by the many players who like it.

"We want to get to the point where this game is known all across the Midwest ," Damm said.

Giving game a try

Pat Wingo was visiting family in Nebraska and decided to visit Royal River Casino for a day. An avid fan of three-card poker, she spotted Silverado Stud and decided to give it a try.

"I like playing it, but I haven't won," said Wingo, 63, who lives in Seagraves , Texas .

Nevertheless, she kept placing her bets down and hoping for a good-sized win. After about an hour, she decided luck was not with her. But she hadn't soured on the game.

"I'll play it again," she said.

Since the game came to the Dakota Sioux Casino near Watertown , Linda Schmeling has played it frequently. But other than a full house on one occasion, the 52-year-old Watertown resident hasn't hit a big-money hand. She has, however, stayed even moneywise.

Skeptical players

Some are skeptical when they sit down - especially if they lose a few hands to start.

"I hate this game; I hate this game," said 78-year-old Warren Gilchrist of Huron, frowning as the dealer took away more chips. "I make some bad decisions."

And just then his luck changed, and he didn't even realize it until he was being paid for a 3-4-5 straight on the three-card side.

"I've got to pay more attention to this game," said Gilchrist, a retired banker who found the game at Dakota Sioux. "And I think I like it more now."

When the dealer turned over two cards as community cards, 66-year-old Debrah Helmke at Dakota Sioux shouted.

"Everybody is a winner on that hand," she said. "Now we need to do that two times in a row."

And that's what happened.

Money for nothing

Shawn Ohlsen, the 28-year-old manager of card tables at the Dakota Sioux casino near Watertown , said it's one of the best new games he's ever seen or heard about.

"I haven't played yet because I work here, but I'm going to have to get over to Flandreau to give it a try," Ohlsen said. "Some guys will walk in and play just $20 to start and will walk off with $400. Some get lucky."

Ohlsen said the new game's success has him racking his brain trying to come up with a card-game idea of his own. He said it's not hard to envy the fact that Karr and Damm will have a continual stream of money for the game from casinos that choose to pay them monthly for a right to use it.

"Once you get going on something like this, you can do nothing and make a lot of money," Ohlsen said.
More games?

Karr and Damm aren't satisfied with what one game can produce. They already have had a variation of Silverado Stud with some higher payouts approved by South Dakota gaming officials, and they hope to create a company that gets into all sorts of investments.

Someday, they hope to have enough money to buy some real estate, including farmland, which they would want to lease. And they want the property to have a small lake.

More ice fishing, one would wager. Gotta have someplace to go to get those good ideas.—