FEATURE DEALER
The "Featured Dealers" are chosen by the feedback we receive from the players. Most players enjoy a certain dealer more than others, the player tells us about this chosen dealer and why they are so special. We then feature that dealer on this Web site. To let us know who your favorite dealer is and why, please e-mail us.
____________________________________________________________________
Our 1st Featured Dealer!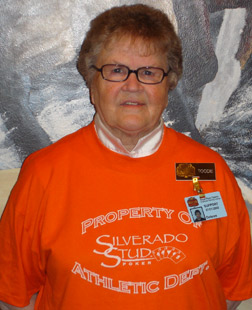 Toodie Falk
___________________________________________________________________
Player: Toodie Falk Age: 74
Where have you dealt? For how long? Royal River Casino for 13 years.
What aspect of Silverado Stud® Poker do you enjoy most? All of it.
What is the highest hand you have dealt? 4-of-a-Kind
What are your favorite games to deal? Please list all table games you enjoy, in order of preference . 1st Silverado Stud Poker, 2nd Blackjack.
How would you compare Silverado Stud® Poker to other casino table games? Best!
If you were going to recommend Silverado Stud® Poker to other players, what would you tell them to convince them to play? Very Fun! Just be patient.
Would you consider it an easy game to play? Very easy.
Do you have any additional comments? More Silverado Stud Poker.
We are proud to reveal our first Featured Dealer--Toodie Falk! Toodie is an absolute sweetheart who works at Royal River Casino in Flandreau, South Dakota. She lives in nearby Jasper, Minnesota. Toodie loves to deal and it shows, that is also why all the players love her. She also says, "of all the games I deal, I like to deal Silverado Stud® Poker the most! It is always very interesting to see how different people play and the hands that they get." When Toodie is not dealing she enjoys playing cards, especially pinochle and poker. She spends the rest of her spare time traveling around the country watching her grandaughters play softball. And Toodie says they are really cute too (which is very rare in girl's softball.) Once again we would like to recognize a great dealer,
Thank you Toodie.
____________________________________________________________________